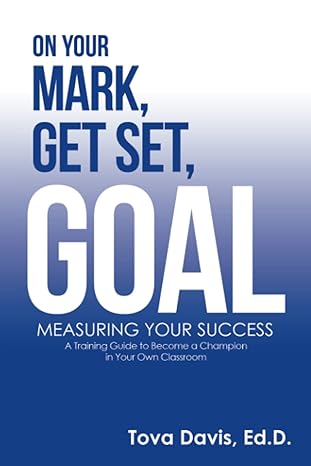 Join the Conversation
Stay connected with us and fellow readers. Share your thoughts, insights, and success stories on social media using the hashtag #MeasuringSuccessBook. Join the community of individuals committed to achieving their goals and making a difference in education.
Contact Us
Have questions or need assistance? Our support team is here to help. Feel free to contact us with any inquiries related to the book or your purchase. We're dedicated to supporting your journey towards success.
Note: All purchases are backed by our satisfaction guarantee. If you're not completely satisfied with your copy of "On Your Marks, Get Set, Goal," please let us know, and we'll assist you promptly
On Your Mark, Get Set, Goal: Measuring Your Success
by Tova J. Davis
Welcome to the official page for "On Your Mark, Get Set, Goal: Measuring Your Success" by renowned educator Tova J. Davis. This transformative book is your ultimate guide to enhancing classroom success through evidence-based strategies and self-help exercises. Whether you're an educator seeking to improve your teaching skills or a student aiming for academic excellence, this book is your roadmap to achieving your goals.
About the Book
"On Your Marks, Get Set, Goal" takes you on a journey of self-improvement and academic achievement. Drawing from years of research and practical experience, Tova J. Davis provides easy-to-digest insights and exercises that can be applied in any classroom setting. The book is designed to:
Boost Academic Performance: Discover effective techniques to excel academically and set yourself up for success.
Enhance Teaching Skills: Empower educators with evidence-based strategies to create an engaging and effective learning environment.
Foster Personal Growth: Develop essential life skills that extend beyond the classroom, helping you thrive in all areas of life.
Why Choose "On Your Marks, Get Set, Goal"?
Proven Strategies: Benefit from evidence-based methods that have yielded results for countless students and educators.
Accessible Content: The book's clear and concise style makes complex concepts easy to understand and implement.
Self-Help Exercises: Practical exercises provide hands-on experience for immediate improvement.
Audio Book Option: For those on the go, an audio book version is available, allowing you to absorb valuable insights wherever you are.
Get Your Copy
Ready to embark on your journey to success? Purchase your copy of "On Your Marks, Get Set, Goal" in either print or audiobook format today. Take the first step towards realizing your full potential and achieving your academic and personal goals.